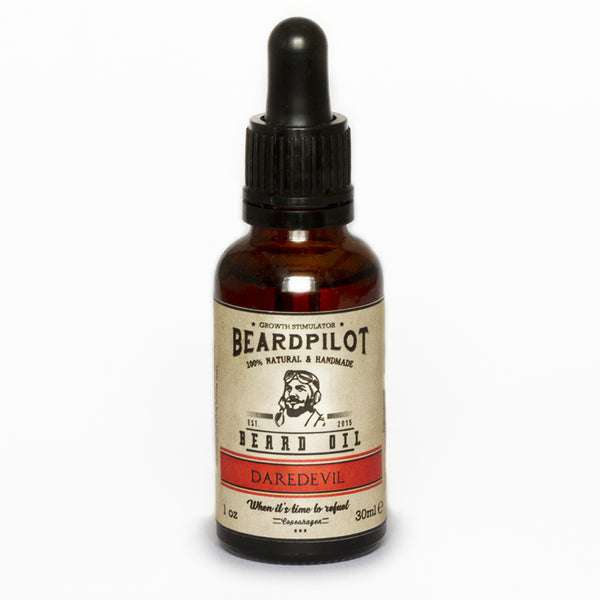 Daredevil Beard Oil
Daredevil Beard Oil
| | |
| --- | --- |
| | Fact Sheet |
| Type: | Beard Oil |
| Fragrance: | Chilli, Black pepper & Tea tree |
| Attribute: | Growth Stimulator |
| Size: | 1oz / 30ml |
Fragrance
This, the first Beard Oil in our Special Edition line, is named in recognition of the inner adventurer in every beard-baring man, who seeks to challenge himself and dares to defy the rules.  Imagine the Daredevils that played on the boundaries of the possible and who were willing to put their life on the line to the amazement of others and feel the rush of walking on the razor's edge.
The Daredevil Oil can best be described as having a mixture of heavy masculine fragrances. The sweetness of Cayenne Pepper and the punch of Black Pepper come together on a backdrop of freshly cut wood. With a name like this, we chose to give Daredevil an initial punch that will surprise your senses, and we designed the fragrance to reduce its potency fairly quickly so that it becomes a more pleasant yet stimulating experience.
Attribute
The Daredevil Beard Oil combines ancient knowledge of the benefits of Chilli and herbal essences with the traditions of using Ricini oil, to make Daredevil a truly different beard experience. While still true that 'nothing comes from nothing', maintaining one's beard will help it to achieve its full potential. Given the potency of its ingredients, Daredevil Beard Oil boast the attribute of being a GROWTH STIMULATOR.
When using Daredevil Beard Oil, one can experience some initial prickling sensation and heat. Do not be alarmed as this is the effect of the 100% natural Chilli essential oil stimulating your beard and skin and keep Daredevil Beard Oil away from your eyes- as it does contain real chilli.
Size
This unique product is available in a 30ml / 1 fl.oz. dropper bottle, and all ingredients are 100% natural (no petroleum based products are used in this product). Indeed, every care is taken to only use premium ingredients in our products.
Ingredients: Prunus armeniaca kernel oil, Argania spinosa kernel oil, Simmondsia chinensis seed oil, Prunus amygdalus dulcis oil, Ricini Communis seed oil, Capsicum frutescensfruit extract, Piper nigrum fruit oil, Melaleuca alternifolia leaf oil, Tocopherol.
N.B.: Note that the Beard Oil contains products made from nuts & peppers. You should discontinue use if skin irritations occur.
---