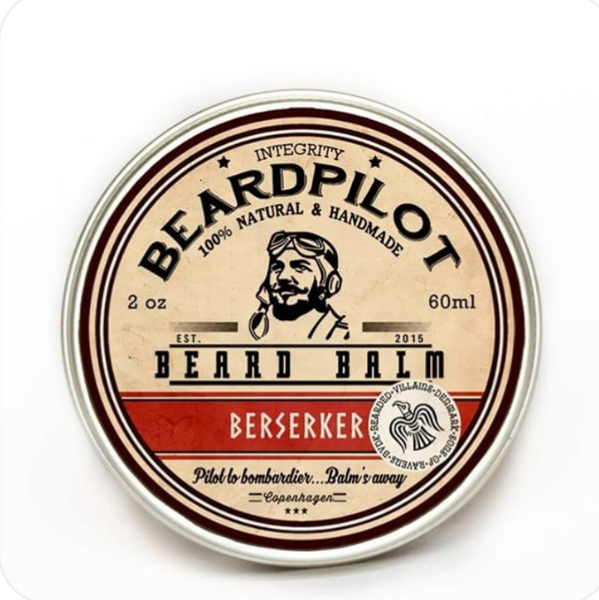 Berserker Beard Balm
Berserker Beard Balm
| | |
| --- | --- |
| | Fact Sheet |
| Type: | Beard Balm |
| Fragrance: | Myrtle, Pine & Tea tree |
| Attribute: | Medium hold |
| Size: | 2oz / 60ml |
Fragrance
The Berserker beard balm is designed in cooperation with the danish chapter of Bearded Villains, The Sons of Ravens. For every viking inspired Berserker product sold we donate 50,- (danish kroner) to the children's heart foundation. When designing the fragrance for the Berserker beard balm the vision was to awaken associations to the viking Ragnar Lodbrok. As initially described 'the sensation of coming out of your hut, your ship and the fjord in front of you and the tall pine forest to your back'. While a challenge to be sure, the final result of blending Myrtle, Pine and Tea tree natural oils is a viking worthy.
Attribute
The Berserker Beard Balm protects and conditions the beard. Working from the outside and inwards, the balm is an essential tool in the bearded man's arsenal. It is designed as an every day balm that protects one's beard from differences in temperature and humidity. The Berserker Beard Balm has a MEDIUM HOLD that gives one the control and ability to style the beard. Furthermore, you avoid stray hairs while keeping your facial hairs well-protected.
Size
This unique product is available in a 60ml / 2oz tin and all ingredients are 100% natural (no petroleum based products are used in this product). Indeed, every care is taken to only use premium ingredients in our products.

Ingredients: Cocos nucifera oil, Cera alba, Theobroma cacao seed butter, Butyrospermum parkii butter, Prunus amygdalus dulcis oil, Argania spinosa kernel oil, Simmondsia chinensis seed oil, Myrtus communist oil, Turpentine, Melaleuca alternifolia leaf oil, Tocopherol.

NB.: Note that the Beard Balm contains products made from nuts. You should discontinue use if skin irritations occur.