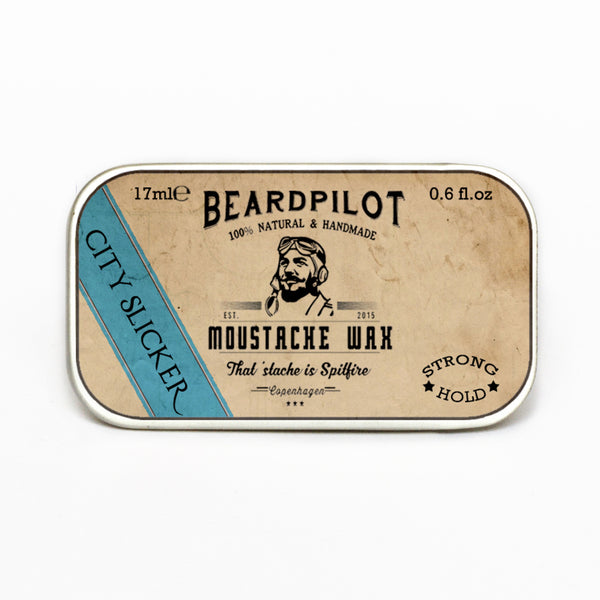 City Slicker Moustache Wax
City Slicker Moustache Wax
| | |
| --- | --- |
| | Fact Sheet |
| Type: | Moustache Wax |
| Fragrance: | Cedarwood, Peppermint & Ginger |
| Attribute: | Strong hold |
| Size: | 0.6 fl.oz / 17ml |
Fragrance
As a true gentleman who needs to stay alert and vigilant to navigate the modern urban jungle, the City Slicker Moustache Wax is your best man. Imagine the hustle and bustle of the city, and the always sharp-looking gentleman ready to meet the day's challenges head on.
To prepare the gent for another day in the great city, this wax has an intriguing fragrance. With a note of heavy cedar wood and a fresh peppermint and tangy ginger scent, these aromas give a truly unique and crisp fragrance that both invigorates and stimulates. In addition, the ginger and peppermint are known for their attributes of being anti-bacterial and having revitalising qualities as well.
Attribute
The City Slicker Moustache Wax is a 100% natural wax with a STRONG HOLD. The wax has a powerful ability to keep your moustache as you prefer styled. The City Slicker Moustache Wax combines ancient knowledge of the benefits of herbal essences with Nordic traditions to make a unique 'stache experience.
Size
This unique product is available in a 17ml/0.6 fl.oz. tin and all ingredients are 100% natural (no petroleum based products are used in this product). Indeed, every care is taken to only use premium ingredients in our products.
Ingredients: Cera alba, Theobroma cacao seed butter, Cocos nucifera oil, Lanolin, Prunus amygdalus dulcis oil, Cedrus atlantica bark oil, Mentha piperita oil, Zingiber official oil, Tocopherol.
N.B.: Note that the Moustache Wax contains products made from nuts & lanolin from sheep's wool. You should discontinue use if skin irritations occur.