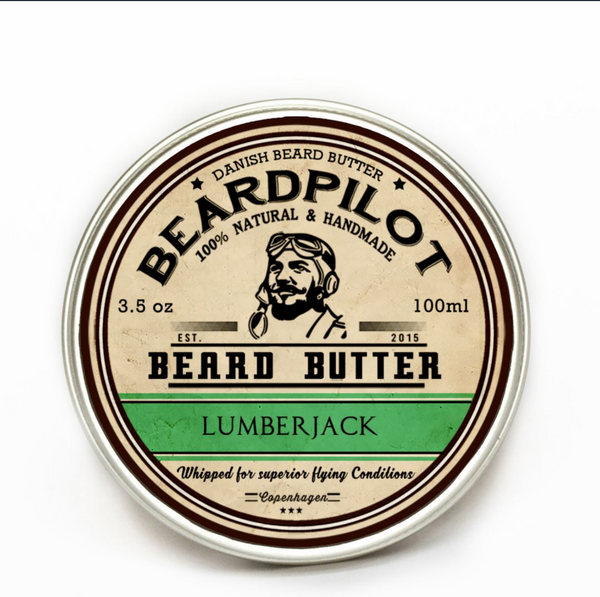 Lumberjack Beard Butter
Lumberjack Beard Butter
| | |
| --- | --- |
| | Fact Sheet |
| Type: | Beard Butter |
| Fragrance: | Pine, Spruce & Cedarwood |
| Attribute: | Conditioning & Protecting |
| Size: | 3.5oz / 100ml |
Attribute
Lumberjack Beard Butter gives you the ultimate beard soothing experience! Is it designed to condition while protecting the beard from differences in temperature and humidity that one encounters during a busy day. The Lumberjack Beard Butter is especially beneficial for men with a bigger beard.
The Danish Beard Butter does not provide hold as a Beard Balm but it does give your beard weight - giving you control and the ability to style the beard. Furthermore, it provides the ultimate shielding against moisture and dryness, keeping your facial hairs well-protected.
We have been asked time and again for a product that could work as a 'beard volumiser' and hinder beard hairs from curling up under the chin, making the rest of the beard looking weaker. Therefore, we introduce the Lumberjack Beard Butter that gives weight to the entire beard not just the outside.
Fragrance
This Danish Beard Butter is inspired by the close relation between man and nature. It is named after the woodsman who finds pleasure in simple and natural things. A hard working man who prefers the smell of newly chopped wood and the great pine forests wood instead of perfume. Imagine a Beard Butter that smells of freshly chopped wood notes of cedar wood combined with the wild forest scents of pine and spruce, translating these into a truly unique and masculine fragrance that taps into primordial ties to nature. Welcome Lumberjack Beard Butter.
Size
This unique product is available in a 100ml / 3.5oz tin and all ingredients are 100% natural (no petroleum based products are used in this product). Indeed, every care is taken to only use premium ingredients in our products.
Ingredients: Butyrospermum parkii butter, Mangifera indica seed butter, Simmondsia chinensis seed oil,  Prunus amygdalus dulcis oil, Citrus aurantium bergamia fruit oil, Argania spinosa kernel oil, Persea grattissima oil, Cymbopogon felxuosus herb extract, Vitis vinifera seed oil, Tocopherol.
NB.: Note that the Beard Butter contains products made from nuts. You should discontinue use if skin irritations occur.