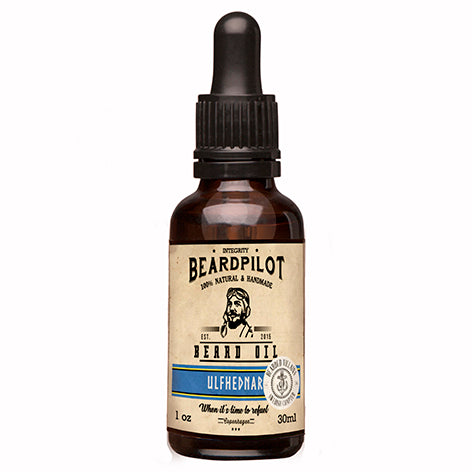 Ulfhednar Beard Oil
Ulfhednar Beard Oil
| | |
| --- | --- |
| | Fact Sheet |
| Type: | Beard Oil |
| Fragrance: | Black pepper, Sage, Pine & Cedar wood |
| Attribute: | General protection |
| Size: | 1oz / 30ml |
Fragrance
This Ulfhednar Beard Oil not only has a majestic fragrance and the ability to ward off the elements, it also has a noble purpose. When envisioning this fragrance our thoughts where of the deep and wast swedish forests and the fresh frosty air of the high north. But also of the legendary Swedish viking king Björn Ironside and his exploits. This beard oil is named after the feared viking wolf warriors. Hence, this Ulfhednar Beard Oil has been forged by combining Cedarwood, Pine, Sage and Black pepper natural oils. That is truly a viking worthy.
Besides the fresh, woody and herbal fragrance, the oil has an even greater feature. The Ulfhednar beard oil is designed in close cooperation with both the Bearded Villains Swedish Chapter and Bearded Villains Denmark. For every Norse inspired Ulfhednar product sold we donate 50 SEK to the Swedish Charity Musikhjälpen.
Attribute
This Ulfhednar Beard Oil can be used as an everyday beard oil. It conditions and protects the beard from differences in temperature, UV-light and humidity hindering the many hazards that you encounter during a busy day. With the Ulfhednar Beard Oil there is emphasis on INTEGRITY. It protects and defends the beard as well as one's skin from drying out and becoming brittle, while keeping the beard smooth and pliable.
Size
This unique product is available in a 30ml / 1 fl.oz. dropper bottle and all ingredients are 100% natural (no petroleum or artificially based products are used). Indeed, every care is taken to only use premium ingredients in our products.

Ingredients: Prunus armeniaca kernel oil, Argania spinosa kernel oil, Simmondsia chinensis seed oil, Persea gratissima oil, Prunus amygdalus dulcis oil, Myrtus communist oil, Turpentine, Melaleuca alternifolia leaf oil, Tocopherol. 

NB.: Note that the Ulfhednar Oil contains products made from nuts. You should discontinue use if skin irritations occur.